Choosing the right academic path is a pivotal decision that can shape your future success in the dynamic world of business. In this blog, we have provided a comprehensive list that not only reveals the rankings based on the U.S. News survey but also provides valuable insights into each program's admittance rate and number of applicants.
Whether you are a high school student planning your undergraduate journey or a prospective graduate student aiming to advance your career, our curated ranking list will serve as a valuable resource to navigate the diverse landscape of business education, empowering you to make informed decisions and set yourself up for success in the dynamic world of business.
Best U.S. Undergrad Programs for 2023
To determine the rankings, U.S. News surveyed deans and senior faculty members from all 516 undergraduate business programs accredited by AACSB International. These experts were asked to rate the quality of the programs they were familiar with on a scale of 1 to 5, with 1 being "marginal" and 5 being "distinguished."
After collecting the survey responses, the average scores for each program was calculated. Additionally, they trimmed the data by removing the two highest and two lowest scores given by the respondents. This helps ensure fairness and accuracy by getting rid of extreme ratings that could skew the results.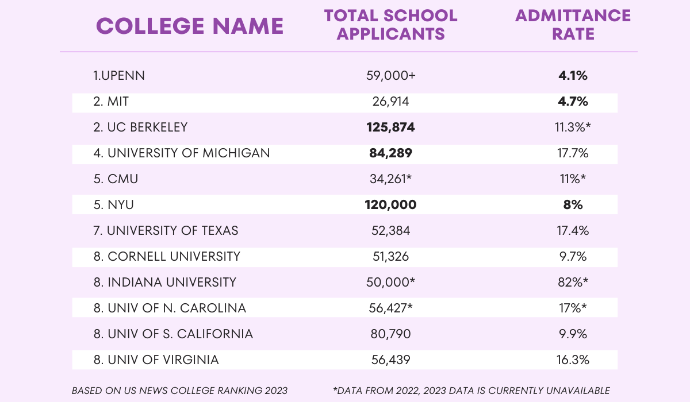 In order to provide a comprehensive overview of college admissions, we have highlighted the schools with the highest number of applicants, indicating their popularity among students. This data sheds light on the institutions that attract a significant pool of applicants.
Additionally, we have identified colleges with the lowest admittance rates, signifying the level of competitiveness involved in gaining admission to these institutions. By presenting this information, we aim to offer a clearer understanding of the college application landscape and provide valuable insights for prospective students.
Best U.S. Graduate School Programs 2023
Earning a master's degree in business can provide several benefits for students, including building professional networks, identifying career opportunities, and improving chances for promotions and salary increases. To help students make informed decisions, U.S. News ranks business schools based on various factors.
The rankings of full-time MBA programs place a strong emphasis on career placement success, student excellence, and qualitative assessments by experts. Specifically tailored for recent college graduates exploring traditional on-campus graduate programs, these rankings differ from those of college-level business programs, fully online business degrees, and part-time MBAs. The formula for the rankings is divided into two components: evaluating graduates' placement and earnings outcomes, and considering academic metrics and opinions from business schools, corporate recruiters, and industry contacts to gauge overall program quality.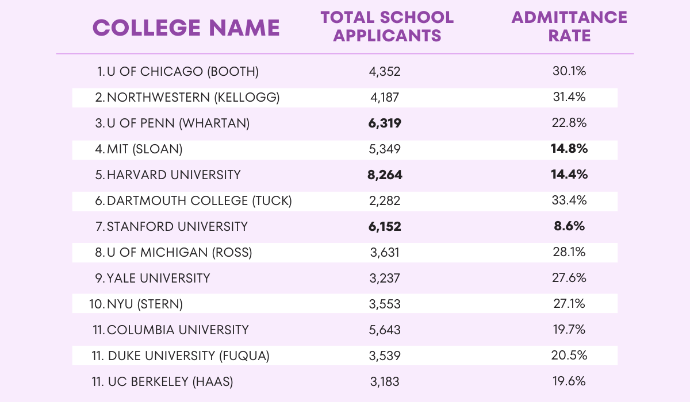 Notably, Harvard emerges as a top choice for students, while Stanford, ranking third in terms of the number of applicants, showcases its remarkable competitiveness with the lowest admissions rate.
We hope that the information provided on undergraduate and graduate school programs has been instrumental in helping you choose the right business school for your academic journey. By considering the comprehensive rankings, evaluating factors such as career placement success, student excellence, and program quality, and understanding the level of competitiveness involved in gaining admission to certain institutions, you can make an informed decision. Remember to explore further, visit campuses, talk to current students and alumni, and gather as much information as possible before finalizing your choice. This is your educational journey, and finding a business school that aligns with your goals and aspirations is essential.
---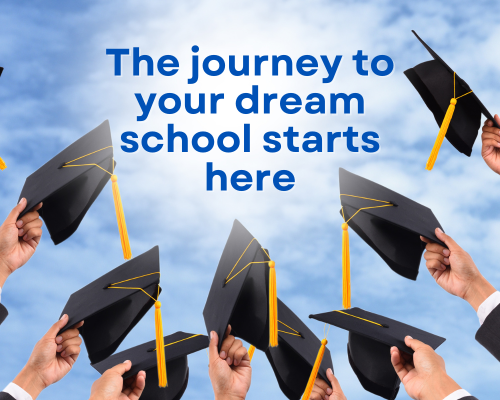 Schedule an information session with 7EDU.
Learn more about the 7EDU counseling program and how we can support your learning and development.