When applying for the college of your dreams, it is standard to dedicate a portion of your child's time to the required written essay or short response questions.
The objective of these supplementary brief inquiries in your student application is to ensure officers from the admissions office have an extensive outline and overall picture of your child as an individual. The short response and written segment of a candidate's college application will allow evaluators, in essence, to assess a student's personality from beyond an ordinary, dull, and resume-like application.
These questions are a great opportunity for you to highlight and emphasize your values, passions, goals, and how these ambitions make you a prime fit for the university you are applying for.
If you have not yet read the latest news on the College Board SAT Student Adversity Score, click here to learn about the newly proposed tool "Landscape".
Generally, students should expect these questions to limit writing to 35, 100, or 250-word answers. While it can be discouraging to have a restricted amount of words to convey your thoughts and answer, student applicants illustrate their ability to convey essential personal details alongside with succinct, powerful words.
Struggling with writing your college application essay? We've got you covered! Read our Ultimate Guide to Stand Out College Essays to learn the tips and techniques on writing a winning essay and maximize your college admission chances!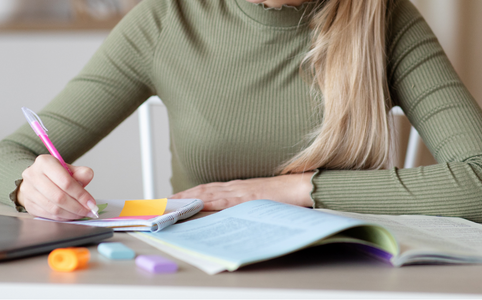 Standard Questions

While it can be intimidating to brainstorm and figure out what you may want to convey and write on your essay portion of the college application, preparing for the conventional questions may be of help.
The list below are some routine and conventional short response questions you can anticipate to see:
"Why Choose This College?"

"What is it about College X or University X that has led you to apply?"

"What inspires you?"

"Most first-year College X or University X live on-campus. What do you hope to add to their experience, and vice versa?"
If you are having a hard time deciding what school or university is the right fit for you, please support us by reading our blog post here about what questions to ask yourself when deciding what college to attend.
Essay Example and Why It Was A Great Response
Now that you are aware of the common essay questions to look out for, the bigger question of what to write in response crawls up from behind you.
Fear not, below are some sample essay responses written from admitted student applicants (some to prestigious Ivy Leagues). Analyses are added below the responses and how they are outstanding answers to what admission officers assessing candidate are on the search for.
An admitted written essay response to Yale University from Carolina Williams :
Williams concisely expresses her love for pizza in a unique and charming way, capturing the attention of the regional Yale admissions officer. See the original article here.
She triumphantly reveals a profound passion for pizza through a description of her childhood recollections of when Williams would order some Papa John's Pizza and having it delivered to her home. The story and language depicted a setting of solace in addition to her individuality and self-sufficiency at a young age.
"Accepting those warm cardboard boxes at my front door is second nature to me, but I will always love ordering pizza because of the way eight slices of something so ordinary are able to evoke feelings of independence, consolidation, and joy"
When you are responding to a similar common application question, follow these suggestions:
Get creative but include the reason: a bland statement such as "I love pizza" does not communicate to evaluators that you are unique from the rest of the student applicants in your passion for pizza. While it is unusual indeed, students should remember to respond with creativity and the why.

Construct a personal moment with vivid details: pursue Williams approach and create a written response that details a specific moment in your life related to your passion. Do not forget to illustrate the depth of your recollections as this shows the admission officer the extent of what you are inspired by.
Conclusion
Although there are many recommendations and strategic tips on completing your written essay, always remember the following the takeaway:
The final written responses should ultimately display a student's analytical self-consciousness in regards to considering and thinking about who you are as an individual, what you care and are most passionate about, and the reason why.
7EDU Impact Academy offers many college preparation services including one-on-ones, counseling, and specific courses. Feel free to contact us at (408) 216-9109 or info@7edu.org if you have any questions or comments.
We hope you enjoyed today's read and don't forget to join us tomorrow (August 30th) on our live webinar Consulting Jun at 5:30 PM PST. The guest speaker and topic of discussion will be posted in our newsletter email, so do not forget to subscribe!
As always, follow us on Instagram @seveneducation. If there are other topics you would like us to cover, send us a message! We also post daily blog alerts and any 7EDU-related updates on our feed.