[This article is part of a new series where we will be dissecting each of the UC essay prompts in depth, providing examples and tips on how you can make your application stand out.]
Click here to read yesterday's post about UC Prompt #2.
Struggling with writing your college application essay? We've got you covered! Read our Ultimate Guide to Stand Out College Essays to learn the tips and techniques on writing a winning essay and maximize your college admission chances!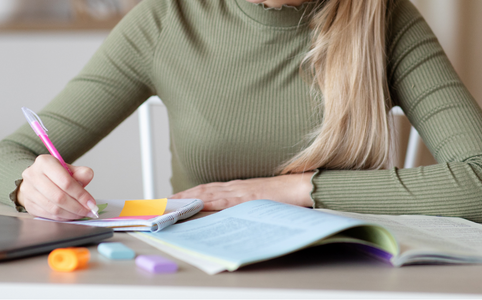 Prompt #3: What would you say is your greatest talent or skill? How have you developed and demonstrated that talent over time?
---
This is one of the more straightforward prompts that can seem easy to answer if you have a tangible talent that you want schools to know about. Maybe you're a music prodigy or you can bake the most amazing cakes or you've been an undefeated Debate champion. In that case, you're in luck! This prompt is as close to a no-brainer as you'll get.
But what if you don't feel like you have any talents? I mean seriously, there's no shame in feeling like you're not particularly good at anything remarkable, because trust me, you're not alone. But there is a way to write this essay even if you don't have any tangible talents that you could theoretically perform at a talent show. In fact, less defined talents could make for more unique essays that stand out from the thousands of people who will write about their piano.
In fact, a better way to think about this prompt is, "What's something you're passionate about and how have you realized and developed that passion?"
I would also like to emphasize that the talent itself is not as important as the journey you took to develop that talent. Maybe your talent is as ridiculous and quirky as being really good at whistling. Clearly, that's not something that is going to make much of a contribution to the world, but admissions officers can see a lot about your character if you tell this story correctly. Perhaps you started out unable to make a single note, but through years of practice, you managed to figure out an entire Mariah Carey song from start to finish beautifully. Sure, this might be a slightly sillier example, but the point is that the latter half of this prompt is more important than the former. 7EDU counselors have helped hundreds of students achieve this strategy by learning their stories and personalities before starting to write. Get started early with a free consultation with our experts.
Now if you do have a significant talent that you must write about, this prompt can be an easy trap for you to fall into. For example, if you're a really talented pianist, it can be easy to simply describe each of your concerts and awards to answer this question. Boring! Instead, ask yourself what specific moments led to your love of the instrument or maybe how your talents have grown with your own personal growth.
With this essay, it's extremely crucial to exercise an appropriate amount of humility. The entire college application process rests on your ability to subtly brag about yourself without crossing the line into arrogance. Watch your tone in this prompt in particular. Stay humble by admitting your early failures and emphasizing the obstacles you had to face.
How you might structure this essay:

What were the beginnings of this talent?

What were some setbacks and obstacles you faced while developing this talent?

How did you overcome those challenges?

Are there any shining moments of success with this talent? (Ex. concerts, awards, etc.)

What did you learn from this journey and how will you apply it to other challenges?
The bottom line is, focus on your journey of developing this talent rather than the talent itself.
7EDU has helped hundreds of students connect their experiences to a compelling story. Get started early with a free consultation with our experts..
If you found this article helpful, check out the rest of our series below :)
UC Prompt #1 Leadership Experience
UC Prompt #2 Your Creative Side
UC Prompt #3 Greatest Talent
UC Prompt #4 Educational Experiences
UC Prompt #5 Significant Challenge
UC Prompt #6 Favorite Subject
UC Prompt #7 Improving your Community
UC Prompt #8 How do you Stand Out?
---
Curious about what UC students really think about their schools? We asked real college students the questions you've always wanted to ask. Check out the whole series with other universities here:
https://www.youtube.com/playlist?list=PL8rpS1l4XePwDA9PfTBwAYMyLOFvlrLp9
Our Mission
"For success in academics and beyond, our foremost goal is to guide and support our students through all types of challenges, preparing them to exceed their current capabilities." - Founder of 7EDU, Jun Liu
Our Service
7EDU's primary mission is to deliver the most effective quality of education to every student we serve. We believe that all individuals learn differently, each with varying of needs, preferences, and degrees of readiness; thus, our educators understand that strategically personalizing every student's learning experience is the key to unlocking their academic potential. Furthermore, 7EDU Impact Academy has embraced technological advances with adaptive teaching principles since its conception in 2014, with our programs routinely delivering tremendous results and academic breakthroughs for all 7EDU students. By consistently nurturing young minds to unearth their hidden capabilities while maintaining our position as a leader in educational technology, 7EDU Impact Academy promises to continue advancing our teaching methodology to accommodate for modern learning environments and to provide unique, personalized learning experiences designed for students to reach their highest goals in academics.