[This article is part of a new series where we will be dissecting each of the UC essay prompts in depth, providing examples and tips on how you can make your application stand out.]
Click here to read yesterday's post about UC Prompt #5.
Struggling with writing your college application essay? We've got you covered! Read our Ultimate Guide to Stand Out College Essays to learn the tips and techniques on writing a winning essay and maximize your college admission chances!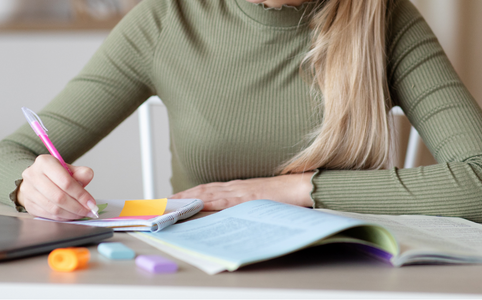 Prompt #6: Think about an academic subject that inspires you. Describe how you have furthered this interest inside and/or outside of the classroom. 

This is as straightforward of a prompt as you're going to get in arguably the entire college application process. There's no secret interpretation of this prompt; it's literally just asking you to describe how you came to love and demonstrate your favorite academic subject.
If you had an immediate answer in your head after you read this prompt, this one is a must-write. If this subject is directly related to what you want to major in or your future career path, then this is your opportunity to show the UCs your expertise in this topic. Ideally, it's a subject that you also excel at in terms of grades and connections with teachers.
Just because the prompt is very straightforward does not mean that your answer should be overly straightforward. Many students fall into the trap of writing something along the lines of, "My favorite subject in school is math, because it's something I excelled in as a kid and then I continued to have great teachers…"
These are all generalizations about the subject that any student could theoretically say. It doesn't help admissions officers believe that your interest in the subject is special or worth investing in. In other words, you must provide specific examples that show that you - and only you - have this unique path to why you love this subject.
If you want to give credit to a teacher for steering you to your love of this subject, it's not enough to just say that you loved that teacher. Tell us what the teacher did specifically or what your relationship was like in detail in order to convince us that this was a special connection.
Moreover, we recommend that you choose a subject that you ideally have some sort of outside-of-the-classroom experience with in order to really stand out amongst your peers. Maybe you were lucky enough to have a related internship, maybe you tutored someone else in this subject, or maybe you started a club dedicated to this subject. Whatever it may be, you need to explain how it furthered your already extensive knowledge of the topic. Universities are looking for students who can take what they learn in the classroom and apply it in the real world. 7EDU counselors can help you identify your favorite subject and how to describe it in your application. Get started early with a free consultation with our experts.
It's also great if you include a little bit at the end about how you plan on pursuing this subject in the future. While the prompt doesn't specifically call for it, it's always good to remind UCs what you could potentially contribute to their campus.
How you might structure this essay:

An anecdote of a specific instance of you loving the subject, learning a particular topic, or making some intellectual realization

Explain the reason behind why the anecdote is important to your love of the subject

Maybe another anecdote that shows the progression of your relationship with the subject in the classroom

If you have out of the classroom experience, write another anecdote and explain how it furthers your interests

Reflect on how this entire academic journey shaped you as a person and how you plan on furthering it in the future
7EDU has helped hundreds of students connect their experiences to a compelling story. Get started early with a free consultation with our experts.
If you found this article helpful, check out the rest of our deconstructed UC Prompts below!
UC Prompt #1 Leadership Experience
UC Prompt #2 Your Creative Side
UC Prompt #3 Greatest Talent
UC Prompt #4 Educational Experiences
UC Prompt #5 Significant Challenge
UC Prompt #6 Favorite Subject
UC Prompt #7 Improving your Community
UC Prompt #8 How do you Stand Out?
---
Curious about what UC students really think about their schools? We asked real college students the questions you've always wanted to ask. Check out the whole series with other universities here:
https://www.youtube.com/playlist?list=PL8rpS1l4XePwDA9PfTBwAYMyLOFvlrLp9
---
Our Mission
"For success in academics and beyond, our foremost goal is to guide and support our students through all types of challenges, preparing them to exceed their current capabilities." - Founder of 7EDU, Jun Liu
Our Service
7EDU's primary mission is to deliver the most effective quality of education to every student we serve. We believe that all individuals learn differently, each with varying of needs, preferences, and degrees of readiness; thus, our educators understand that strategically personalizing every student's learning experience is the key to unlocking their academic potential. Furthermore, 7EDU Impact Academy has embraced technological advances with adaptive teaching principles since its conception in 2014, with our programs routinely delivering tremendous results and academic breakthroughs for all 7EDU students. By consistently nurturing young minds to unearth their hidden capabilities while maintaining our position as a leader in educational technology, 7EDU Impact Academy promises to continue advancing our teaching methodology to accommodate for modern learning environments and to provide unique, personalized learning experiences designed for students to reach their highest goals in academics.