[This article is part of a new series where we will be dissecting each of the UC essay prompts in depth, providing examples and tips on how you can make your application stand out.]
Click here to read yesterday's post about UC Prompt #7.
Struggling with writing your college application essay? We've got you covered! Read our Ultimate Guide to Stand Out College Essays to learn the tips and techniques on writing a winning essay and maximize your college admission chances!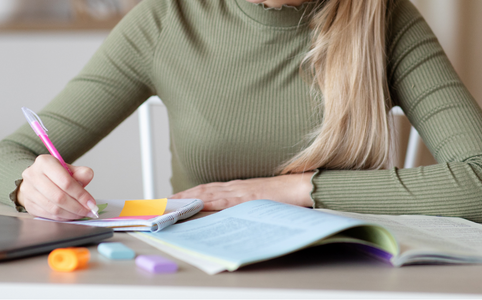 Prompt #8: Beyond what has already been shared in your application, what do you believe makes you stand out as a strong candidate for admission to the University of California?
This prompt is the closest you'll get to being handed a freebie by the UCs, and every student should strongly consider choosing this prompt as one of the 4 that they must write. Prompt 8 is the most open-ended one that allows you to complete the picture of yourself that you want to paint with these 4 essays.
However, there is one problem that many students run into with this prompt. Because it is so open-ended, many students feel a pressure to fit as many examples as they can to convey everything about their character all at once. But the reality is, you only have 350 words, and that's really only 2-3 paragraphs max. There's no way to cram all of what makes you stand out in this essay; the key to writing UC Prompt 8 is picking one specific example that demonstrates a vital part of who you are. 7EDU can help you identify which of your characteristics is the most unique and help you craft a story around it. Get started early with a free consultation with our experts.
Moreover, make sure that you're revealing something about yourself that wasn't already revealed in a different prompt you chose to write. But what exactly counts as something that makes you stand out? The options here are endless, so here are just a few of the many ideas you could talk about:

You are the biggest fan of Marvel movies

You've been journaling every day of your life since 5th grade

You're a twin, and that's brought some extraordinary experiences

You run a food Instagram

You read a book every single day
The important part of writing about these unique traits is that you must discuss how you've become a better person or grown because of it. It's not enough to just talk about how much you love Iron Man or that you can recite every line of the first Avengers movie. Instead, ask yourself, what is it that you've learned from watching these superheroes all these years? Why are you so intrigued by them? Do you admire certain traits in Steve Rogers that you've then made your own?
Here's how you might structure this essay:

Share an anecdote of you doing whatever it is that makes you stand out

Explain how you came to develop this characteristic or passion

What did you learn through your journey to discovering this characteristics?

Why does this trait matter to you, others, or the world?

How does this aspect of you make you a valuable person on campus?
This is the last blog in our UC Prompt series. We hope you found it helpful, and feel free to click here to reread any of the posts in this series. 7EDU has helped hundreds of students connect their experiences to a compelling story. Get started early with a free consultation with our experts.
Meanwhile, feel free to check out the rest of our UC Prompt Series while you're here :)
UC Prompt #1 Leadership Experience
UC Prompt #2 Your Creative Side
UC Prompt #3 Greatest Talent
UC Prompt #4 Educational Experiences
UC Prompt #5 Significant Challenge
UC Prompt #6 Favorite Subject
UC Prompt #7 Improving your Community
UC Prompt #8 How do you Stand Out?
---
Curious about what UC students really think about their schools? We asked real college students the questions you've always wanted to ask. Check out the whole series with other universities here:
https://www.youtube.com/playlist?list=PL8rpS1l4XePwDA9PfTBwAYMyLOFvlrLp9

---
Our Mission
"For success in academics and beyond, our foremost goal is to guide and support our students through all types of challenges, preparing them to exceed their current capabilities." - Founder of 7EDU, Jun Liu
Our Service
7EDU's primary mission is to deliver the most effective quality of education to every student we serve. We believe that all individuals learn differently, each with varying of needs, preferences, and degrees of readiness; thus, our educators understand that strategically personalizing every student's learning experience is the key to unlocking their academic potential. Furthermore, 7EDU Impact Academy has embraced technological advances with adaptive teaching principles since its conception in 2014, with our programs routinely delivering tremendous results and academic breakthroughs for all 7EDU students. By consistently nurturing young minds to unearth their hidden capabilities while maintaining our position as a leader in educational technology, 7EDU Impact Academy promises to continue advancing our teaching methodology to accommodate for modern learning environments and to provide unique, personalized learning experiences designed for students to reach their highest goals in academics.
Class of 2020 7EDU Student Admissions (Partial)