You know what they say: "volunteering is good for the soul." But did you know it's also good for your academic profile? That's right – by devoting your time and energy to a worthy cause, you're not only doing a good deed, but you're also building a killer academic portfolio.
According to a 2018 study by the National Association for College Admission Counseling, community service is ranked as the fourth most important factor in college admissions, after grades, test scores, and rigor of coursework. Additionally, many colleges and universities actively seek out applicants who have a demonstrated commitment to community service and civic engagement, such as through their involvement in service-oriented clubs and organizations.
Make your college application stand out through volunteering
Think about it. Volunteering requires skills that are essential for success in any academic or professional setting. You will be honing your leadership skills, networking with like-minded individuals, and developing your communication and interpersonal skills. Plus, by showing that you are committed to making a positive impact on your community, you're demonstrating a level of dedication and passion that will make you stand out from the crowd.
Interested but don't know where to start? Check out these volunteer opportunities and find the one that aligns with your interests!
Local volunteer programs in the Bay Area
Led by high school students, PPP aims to recover surplus food from school campuses and divert it to feed those suffering from hunger. The group strives to conserve the water and energy used in producing otherwise wasted food while also providing nutritious meals for the community's most vulnerable members.  PPP is looking for young leaders and volunteers in the Bay Area to set up PPP projects on their own campuses. To volunteer, submit this form. 
The Girls 4 Business Challenge is a global competition open to all girls in elementary and middle school from grades 1 through 8, free of charge. The challenge will encompass a series of fun activities that will allow young girls to gain insight into the business realm, all while having the opportunity to earn cash prizes! To volunteer, submit this form. 

Mini libraries are collections of used books maintained for public use, particularly in underserved communities where access to books is limited. The books are free to read, exchange, or trade. A mini library can be set up by anyone around the city. Volunteers are needed to help set up mini libraries!  To volunteer, submit this form.
E4I is a platform created to bring people from different backgrounds and industries together to share their thoughts on all things education-related.  To volunteer with E4I, submit this form.
Mealer is a meal planner and grocery list manager in one app. It allows users to plan their meals and know exactly what and how much to buy. To volunteer, submit this form.
More info coming soon
A unique learning experience in Costa Rica that combines science, art, culture, and language. Participants will have the opportunity to learn about indigenous wildlife in a tropical environment while working alongside expert professionals.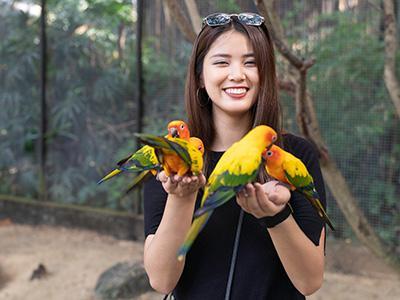 The program also includes excursions to Costa Rica's beaches, rain forests, and volcanoes. Participants can earn community service-learning hours and make lasting friendships, while making a positive impact on the world.
Volunteering is a powerful tool that can help you stand out during the college admissions process. By integrating your volunteer experiences into the college applications, you can showcase the skills and values you developed through your service work, and demonstrate qualities such as hard work, dedication, teamwork, empathy, and compassion. By highlighting your commitment to community service and your ability to make a positive impact, you can impress college admissions officers and increase your chances of being accepted to your dream school.
So don't underestimate the value of volunteering - it can truly make a difference in your college application and beyond.